Videocon Connect Super Jodi Grand Finale witnessed enthralling performances
City based couple Inderpreet & Upma win a luxurious Vacation in Dubai
Chandigarh, 27th April 2015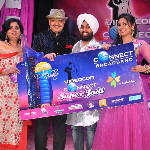 After scouting and curating best of the talents from around Tri-city and the region Videocon Connect Super Jodi culminated in an action-packed Grand Finale at Tagore Theatre on Sunday. Finalists adjudged by the jury panel performed for the last time and out of the 6 worthy contestants, the Jodi of Inderpreet and Upma from Chandigarh won the title of Videocon Connect Super Jodi 3 and a luxurious vacation in Dubai.
And if you thought that was all wait till you hear the names of celebrities who set the stage on fire with their scintillating performances. To adorn the Grand Finale evening Videocon Connect Super Jodi 3 brought in Raja Sagoo a renowned comedian and mimicry artist & Ali Brothers from the Patiala Gharana of Music.
Raja Sagoo has performed in famous TV shows Comedy Circus, Comedy Nights with Kapil, and Dus Ka Dum hosted by Salman Khan. He has entertained diverse audience in India and overseas and can mimic 150 celebrity figures like Salman Khan, Sunny Deol, Mika, to name a few. Ali Brothers come from the Patiala Gharana of Music and are renowned for Sufi style of singing. Soulful renditions and a beautiful display of melodious voice and heart stirring compositions is what explain Ali Brothers. Their voice has enthused, captivated and enthralled audiences across age groups, genres and geographies. To make this evening even more memorable, winning couple from Season 2 also joined the judges to motivate the young guns. Additionally, an extraordinary couple who runs 'Prabh Aasra' a home for destitute based in Kurali, was honored as the real Super Jodi of Punjab to mark their distinctive work towards the society. The trust was founded in 2003 by S. Shamsher Singh and Bibi Rajinder Kaur and it works on donation. The organization has given shelter and treatment to nearly 1160 destitutes, and has work towards re-uniting almost 800 people with their respective families. You can find more info about the trust on their website http://caredisabled.org/

Videocon Connect Super Jodi' – Story so far
After witnessing the wave of success with Connect Super Jodi contest and the stupendous success of Season 1 & 2, Connect Broadband and Videocon Telecom brought to the city audience, the madness and the enthralling talent contest of real life couples on April 26 at Tagore Theatre. In Year 2013, Connect market leader in Wire line and Broadband business in Punjab provided a platform to hundreds of couples across Punjab to participate in the Connect Super Jodi contest and celebrate love for their partners. The contest tests couples based on their compatibility through various fun filled quizzes and talent exhibitions by the couples. Taking the contest on a larger scale in the following year, Videocon Telecom and Connect Broadband joined hands to launch the Mega contest. The Chandigarh and Punjab-wide Mega Contest was launched in February 2014. This year, the hunt for the Super Jodi-3 was spanned for over 2 months and saw over 40 audition rounds in Chandigarh, Panchkula, Mohali, Ludhiana, Jalandhar, Amritsar ,Bathinda and Patiala at various malls, housing societies and clubs. The 2 month long program was enjoyed by over 50,000 people as audience from all age groups and close to 5000 couples got registered for the Mega contest. After rigorous rounds of auditions 100 couples competed at the City Finales across Punjab out of which 6 couples were shortlisted for the Grand Finale.
Commenting on the VIDEOCON CONNECT Super Jodi, Mr. Arvind Bali, Director and CEO, Connect Broadband & Videocon Telecommunications Limited, said, Super Jodi this year has been a huge success. This property is already in the third year and participation has seen an all time high. We are happy to receive such an overwhelming response from the audience and our customers in Punjab who have supported us all along.
About CONNECT
CONNECT is an India-based Unified Access Services Licensee in Punjab Telecom Circle, which consists of Punjab, the Union Territory of Chandigarh and Panchkula. The Company also provides a full gamut of telecommunication services, which includes voice telephony, both wire line and fixed wireless, Internet services, broadband data services and a range of value added service viz., Centrex, leased lines, voice mail and video conferencing. What more? CONNECT also provides Wireless Broadband service across Punjab. Offering high speed internet through a wireless medium, CONNECT Wireless Broadband enables users to access internet through their Laptops, PCs, Tablets, Wi-Fi enabled phones in the wireless vicinity & FTTH which is a Broadband telecommunications system based on fiber-optic cables and associated optical electronics. The technology reaches the boundary of the living space, such as a box on the outside wall of a home. Quadruple play of high-speed broadband, high-definition video, unlimited anywhere telephony, and real-time surveillance are a few key take-aways for users.